Vintage 1968 Fender Jaguar White Guitar W/ Original Case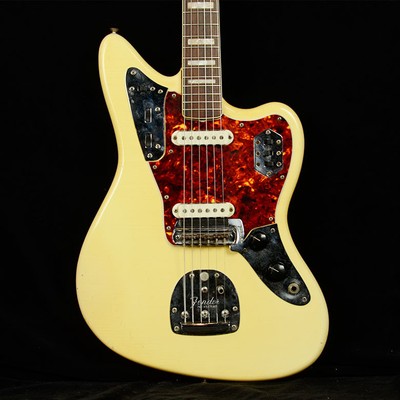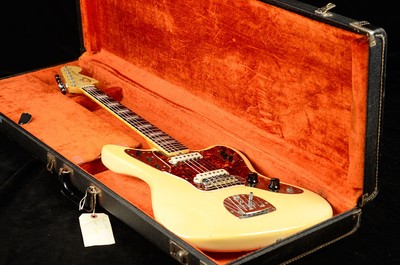 White 1968 Fender Jaguar W/ Original Case
This vintage 1968 Fender Jaguar is in great playing condition, having just left the shop with a new nut, a re-fret, a full setup, and a re-magnetizing of the original pickups. It features the expected checking and crazing in the finish as well as a little buckle rash on the back, as seen in the photos. It includes the bridge cover and vibrato bar, as well as the original hardshell case and owner's manual. The case is in pretty good shape but for one non-functional latch. Overall this '68 Jag is a great vintage player with some real character.
Neck Date - 15 May 1968
8.4lbs weight
Neck Pickup: 6.33K
Bridge Pickup: 6.39K
Serial # 222470
Shipping
This guitar will ship UPS Ground in the United States and Canada. International shipping is available and is listed under the Shipping tab. Please contact for quote if you need express shipping.

Returns

If you would like to return an item, you must notify us with in 48 hours of receiving the item. All items must be returned to us within 10 days of the original delivery. If your item has arrived DOA, and a manufacturer's warranty applies, please contact the manufacturer for warranty information. If no manufacturer's warranty applies, please return the item to us for a full refund. If returning an item at the buyer's discretion, a 25% restocking fee will apply.

Payment

Please use eBay check out. We offer COMBINED SHIPPING on multiple item purchases. Each additional item will ship at half of its posted shipping rate. The highest rate will be applied first. We accept Paypal only. All payments must be received within 7 days.